Songs an' Rummy Conjurin' Tricks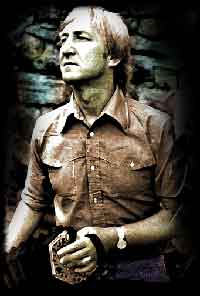 It has been said by many, and justifiably so, that
The Transports, written in an amazing four days, was and is Peter Bellamy's greatest achievement. It relates the true story of Henry Cabell (or Cable, or Kabel) and Susannah Holmes, convicts transported, for theft, to Australia on the First Fleet in 1787 and the trials and tribulations which culminated in that historic voyage. The tale is presented as a cycle of songs written in the idiom of traditional English folk song, by
Peter Bellamy, linked by narrative passages in the style and to the melodies of broadsheet-ballads of the time.
Presented here is a celebration of that momentous album and its various live performances and to relate the true events that inspired
The Transports. It is also a continuation of both our Albion Cycle of websites and an extention of our
Wake The Vaulted Echoes: a celebration of Peter Bellamy website.Like many of our websites, this is yet another one that has grown out of a couple of webpages,which can still be found
here
, plus the discovery, out there on the internet, of more information regarding the histories of The First Fleet. We hope that you'll find this site both enjoyable and instructive, and that it will encourage you to go out and hunt for Peter Bellamy's music and find out more for yourself about
The Transports
.